Cat fleas are among your kitty's smallest enemies. Kittens can get fleas too. Treatment is necessary to reduce further health hazards.
Itch! We all know how annoying it is. Now imagine a constant itch all over your back. That's how a cat (or kitten) with fleas feels.
An adult flea is a pinhead-sized dark insect without wings, that feeds on animal blood. It can multiply quite fast: it lays up to 500 eggs!
Cats that stay indoors won't catch fleas easily, although there's a small chance you may bring some flea eggs home on your shoes or clothes. Outside cat fleas are easily spread.
A flea leaps from animal to animal. So if your dog has fleas, your cat is not safe.
Be aware that cat fleas may also infect your pet with a tapeworm.
HOW CAN YOU SEE IF YOUR CAT OR KITTEN HAS FLEAS?
Your pet scratches vigorously.
There are tiny dark spots on the skin. These are droppings of cat fleas.
Sometimes you can even see the parasites run on your kitty's back – that's where they most live.
WHAT HELPS?
Groom your pet regularly and watch your kitty's skin. If you notice a flea or droppings, start treatment.
A spray, shampoo or powder with insecticide.
Flea collars. Keep in mind that some collars cause a skin reaction.
Nowadays there are even tabs against cat fleas.
Wash floors, carpets and walls to kill flea eggs.
Thoroughly clean the place where your kitty sleeps. Use disinfectant.
Advantage 4pk against cat fleas kills almost all fleas within 12 hours of application.
IS IT SAFE TO TREAT KITTENS WITH FLEAS?
Yes, as long as you have the right product. Get in contact with your veterinarian.
Most products also help against ticks.
Like with most other parasites, health hazards are small if you start treatment in an early stage.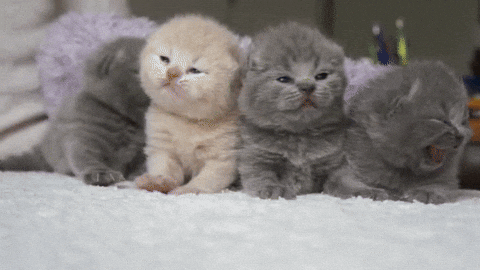 Don't hesitate. If you wait too long, your kitty may develop an allergy to flea saliva.
You can recognize this allergy – or miliary eczema – by numerous small pimples on the hind part of the back and along the spine. In severe cases your kitty will find it almost impossible to stop licking, scratching and biting. Only a vet can treat such an allergy!